Physically Distanced, Socially Connected
It's time to stop using the term social distancing and start maintaining social connections. In celebration of our 89th Anniversary, UP Sigma Delta Phi dares to take on the challenges of building genuine relationships during this pandemic with this year's theme, Dare to Connect. Join us in a series of events this March 2022!
#BeTrue #ShareYourPower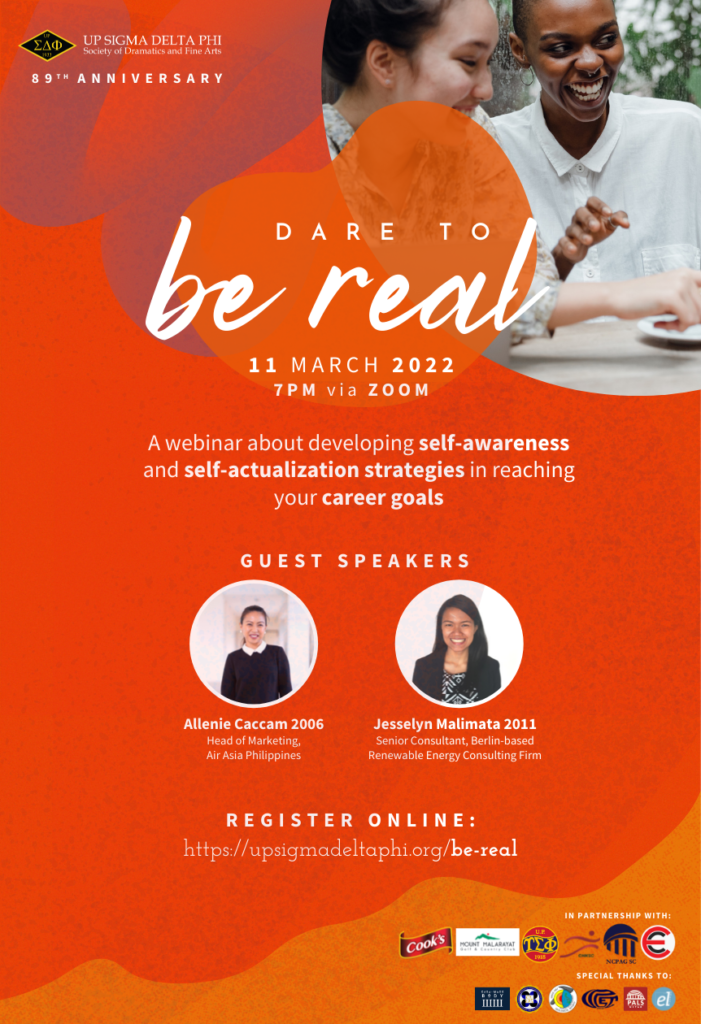 Dare to Be Real
Using your true self in advancing your career is highly important for you to maximize your potential and find fulfillment long-term.
Yet, with the prolonged isolation brought about by the pandemic, we can be easily disillusioned with our own identities and capabilities, given the sudden change in our life's setup. When before we have our eyes set on goals that are viable through face-to-face meet-ups, physical interactions, and routines set by our environment, now, we had to adjust to a virtual environment with lesser interactions expected, and whole new avenues for self-exploration and career-building.
Worry not! We have an event to help you kickstart this journey towards your authentic self.
Catch us this March 11 for "Dare to Be Real: Using your authentic self to build your career", a 90-minute webinar that teaches strategies to develop self-awareness and self-actualization while working towards your career goals.
Dare to Inspire
How do you maintain healthy and genuine relationships when life-altering events like the pandemic have everyone's lives upended?
Two years into the pandemic, the once comfortable and safe space of the home has been transformed into both a place of rest and work. Sure, there are a lot of different social media and online platforms for connecting with friends, family, and colleagues. But are the conversations we share still as meaningful as they were pre-pandemic?
In our ongoing Conversations at the Parking Lot Series, "Episode 2: Dare to Inspire" highlights fostering genuine and lasting relationships. We hope to instill motivation and meaning in what it means to build lasting relationships that are authentic and genuine.
Feel inspired this March 26, Saturday, 6 pm! Join the conversation via Zoom & Facebook Live as we delve into the interactions that create lasting memories and stronger relationships that transcend pandemic restrictions.